Back in 2016, my younger sister won her wedding on Facebook (a whole other story!) and we had a few months to prepare for the big day. A lifelong nail biter, I was determined to try to curb my habit in time for the wedding but I had no idea how to start.
I'd tried different ways of stopping in the past but none lasted more than a week or so. Cue my first introduction to the wonderful world of Jamberry!
Stick a wrap on it!
A friend of mine had recently started as a Jamberry consultant and popped me a message when I posted about trying to stop biting my nails, explaining that they were vinyl nail stickers that lasted up to two weeks and could be used even on chewed-to-the-quick nails like mine. I have to say, I was extremely sceptical but I figured nothing ventured, nothing gained! So, my samples arrived just before I went out to a conference in Barcelona and I applied them the day before I left.
When I say I had short nails, I mean short! These are my nails when I just started out with my samples!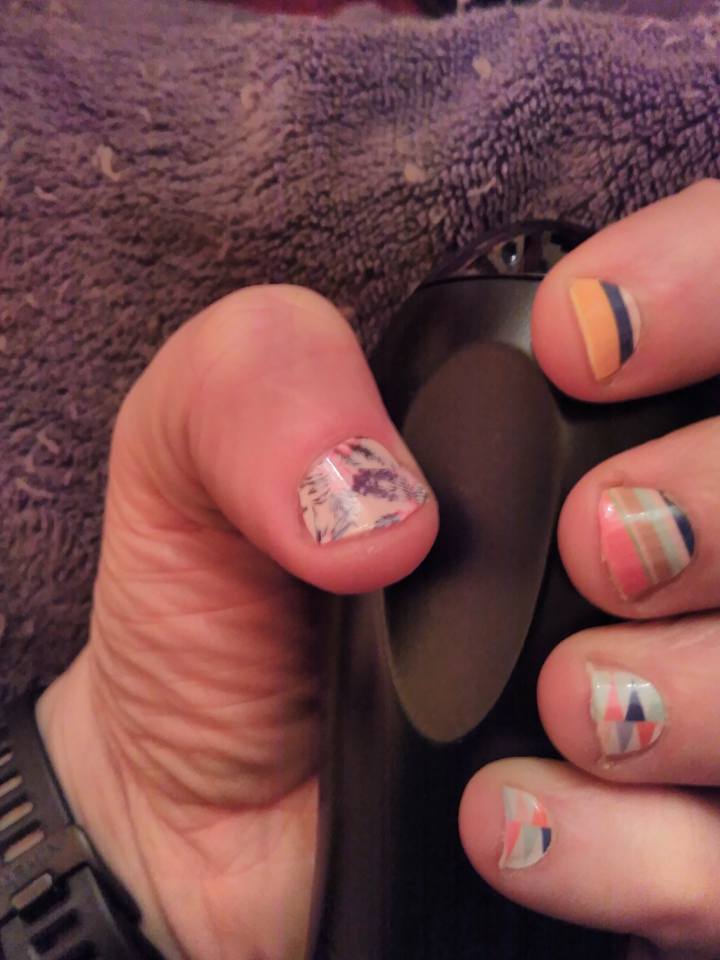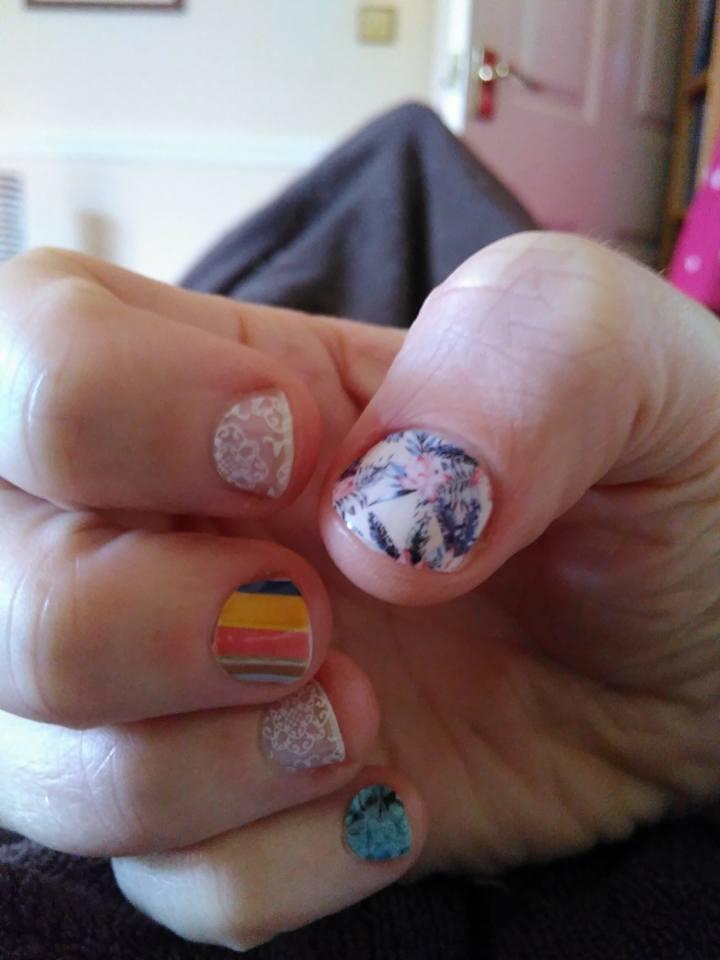 These wraps lasted nearly 9 days on my nails (varnish and gels lasted on average 1-2 days maximum) but what struck me most was the number of comments I had from people at the conference I attended. People I did not know were stopping me at the bar and asking about them! Friends were asking how they could get hold of them. Even the airport security lady wanted to know more!
Taking the leap
By the time I had got home, I was sold. For a whole week I had not bitten my nails AT ALL, and whats more, I was proud of them! I was greeting people with my hand outstretched, using my hands when I was talking to people, and was no longer ashamed of my horrible bitten fingernails because they looked good!
With over 300 designs to choose from, it became clear pretty quickly my wishlist was a bit out of control! Added to the fact that I knew I would need a mini heater (using a hairdryer at 10pm at night is not a good way to gain favour ... and nor is blowing scraps of sticky back plastic into your cat's face, I soon learned!) alongside the basics to take care of my growing nails. I had literally never done anything with my nails and was completely clueless!
Doing the maths
When I did the basic maths I realised quickly that it was going to be more cost effective for me to sign up as a consultant, as I would get all the stuff I needed (heater, application kit, tool kit, a couple of sheets of wraps etc) along with an ongoing 30% discount. This is where I started to get a bit sceptical. I read up online about Jamberry, and there were a lot of good reviews, some telling me to be cautious, and others slating it.
Some things did appeal to me though - the brand values (which I'll write about in a blog post) really aligned with my Buddhist ethics. Learning and sharing with other women was something I was still very new to - having been bullied as a child by girls at school I rejected pretty much anything feminine throughout my life until recently - but a lot of Jamberry consultants were very positive about their experiences of their team members and Jamberry as a company in supporting and encouraging women.
In the end after reading every single word of the small print and ensuring I fully understood all the basics, I joined. Yep, I joined for the kit, and the discount!
Sharing the love
Pretty soon afterward I had a couple of events to attend - bridesmaid dress fittings and the hen party - where I took along my shiny new kit and told people about my newfound discovery! I couldn't quite believe it but I managed to sell nearly £800 worth within my first month (bearing in mind these are £15 a sheet!) without really doing a huge amount of promotion.
Nearly everybody I talked to wanted to know more, and were really struck by the range of designs, ease of use and the 2+ week duration!
Building a team
I literally never thought I would build a team, but a couple of people who I shared samples with bought wraps and then decided to join as consultants themselves for much the same reason as me - or because they felt they were coming to a dead end in their job and this was an opportunity to have a different life. We are a small team but we have a lot of fun, and more importantly we're growing our businesses together.
I have nails!
Believe it or not, over a year later and I am STILL not biting my nails! Due to my Ehlers-Danlos Syndrome I'll probably never have long, beautiful nails (curse that collagen weakness!) but I now have lovely nails that I am proud of!