Creating a Facebook page is a great way to engage more widely with potential and existing customers
© nanomanpro - Fotolia.com
How to set up a Facebook page for your Jamberry business
Setting up a Facebook page might seem like a daunting process, but it need not be that way! In this article I'll take you through step-by-step how to set up a page for your Jamberry business - if you have any questions please do comment on the post below and I'll do my best to answer them!
Why do I need a page? I have a group already!
Most consultants will start out with a VIP group on Facebook where you share all your lovely news, updates and information. Groups are great for communicating between friends, but to do anything remotely business-like on Facebook, you need to have a Page.
Usually you will get to the point where your business is starting to thrive, you're building up a good customer base and need to do more in the way of cold-market outreach (that's finding new customers who don't already know you, in layman's terms!).
Most people set their Groups to be secret or private, rather than public - they are VIP groups after all, so that is a valid reason for restricting access! With a page, everything you post is public by default - people do not need an invitation to join before they can see the posts. If you are trying to reach people who don't yet know you, this is really important.
There are also some features like being able to run paid advertising on Facebook, see analytics about who is liking your page and how you're doing in comparison with other similar pages and so forth which you do not have access to with a group.
Ultimately, as you grow your business, it is likely that you will need to create a page to gain exposure to a wider audience.
Setting up your page
The easiest way to set up your page is to simply click on 'Create Page' which you will find at the bottom of the 'Pages' section in your left menu bar or by clicking on the arrow in the top right of your blue bar, or by visiting https://www.facebook.com/pages/create/. The only requirement for setting up your own Page is a personal Facebook profile - I'm assuming you already have one!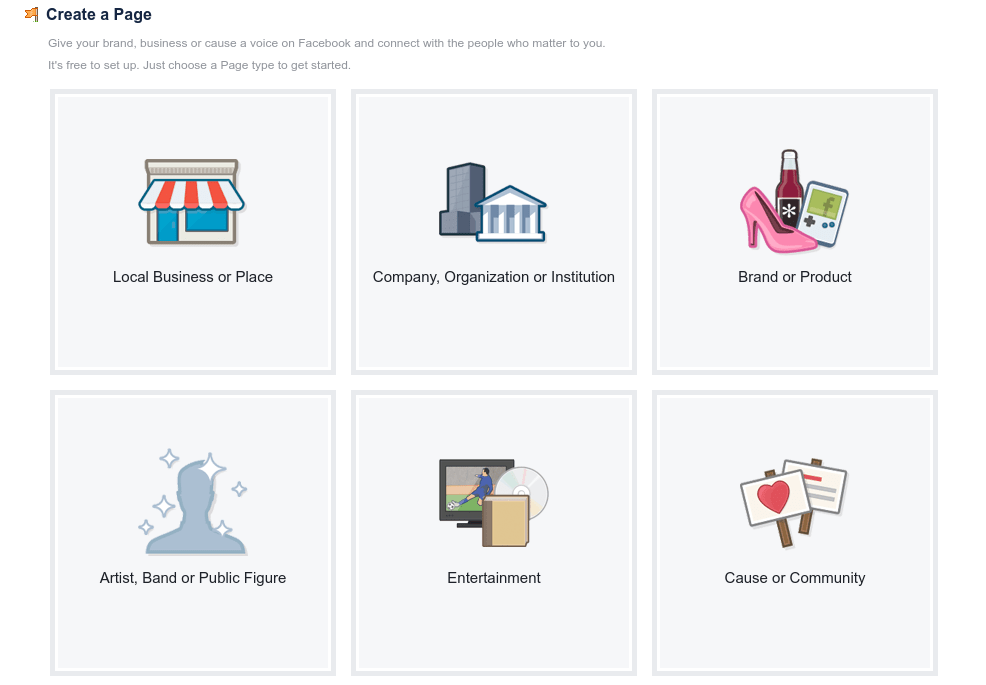 The first thing you need to do is to choose what type of business you wish to register as. Personally I would recommend the Local Business type, as this opens up a bunch more features such as local visibility, reviews, and so forth. Most Jamberry consultants will ultimately be covering a geographical area as a consultant (not talking about cross-border sponsorship etc here, just where you go to sell the wraps).
Once you click on Local Business, it will ask you for a business name - note that this must be in line with the requirements from the Compliance Guidelines - get it right before you start otherwise you may be faced with having to rename the page in the future.
To create a local business page you will need to provide:
Category (Ex. Hotel, Landmark, Library - Beauty would be acceptable)
Business or Place Name
Street Address
City/State
Zip Code/Postcode
Phone
Something to note about the address, I recommend entering your full address to start, and once you're set up and verified you can then remove the house number/name if you prefer that information to not be made public.
Once this is provided, it's simply a case of following the steps. While they are optional it is important to consider that the more information you enter, the more reputable your business page will appear - especially when you are in the early days and building up your audience. Some points that may be helpful:
The description section has a 155-character limit, so be sure to add the most important information here.
The website field allows you to add your Jamberry website, or if you have your own site then you can use that.
The Unique Facebook URL is much like a personal Facebook profile URL that you would give to a friend to find you. Business Pages can create a unique Facebook URL (commonly referred to as a vanity URL). Once you choose your unique URL and click on Save Info, you'll be prompted to change your chosen URL if the name is already taken. Think carefully with this - people will be able to mention you by typing @Pagename and your page name will be shown when you are mentioned.
Profile pictures and Header Images
Profile pictures
It is important to note that you cannot use the Jamberry brand mark without the text that appears beside it - so you can't use the brand mark as the profile photo. If you are representing yourself with the page, it is a good idea to use a professional headshot (the same one you use on your Jamberry portal) so that people recognise you. If you are using a business name, perhaps consider using your favourite wrap or if you have your own logo, you can use this.
Remember that each time you post on your page, this image will be used - so make it good! Do NOT use any text on this image, it's always too small to see, and will look unprofessional.
Header images
Sometimes referred to as 'timelines', the header/cover image for your Facebook page must ONLY use those which are provided by Jamberry via their official Flickr feeds. You can find the appropriate Flickr account for your region by looking for the accounts with the brandmark as the profile picture https://www.flickr.com/search/people/?username=jamberry. As an example, you can download the header image for the new UK exclusive wraps by going to the Albums link. For a screencast (without audio) showing how to download them, see below.
Your expected audience
I'd suggest that you add your page to the 'favourites' tab - certainly on the desktop I find it much quicker to get to my pages if it's there. It basically acts as a shortcut to your page. You'll then be asked about your target audience - while the page will be accessible to all, this helps Facebook to understand the kind of demographics you are expecting to reach. I'd tend to keep this fairly broad, possibly narrowing by gender if anything to women. You can also specify interests that you think people will have if they are interested in your page - you can choose things like nail art, beauty, etc but in my experience most of my customers are not the 'typical' nail art fans - so it's your call as to whether you set anything here.
All the above audience settings can be tweaked once your page is up and running, so don't worry over it too much!
Additional features
Once you have set up your page, there are a few features which only become available as you build the page. For example, once you pass 30 likes you gain access to the page insight tools which tells you who has visited the page and what posts they have interacted with - so it's a good idea to try to hit your first 50 likes as soon as you can!
Becoming a verified page
Local businesses can receive a 'gray badge' which allows people to know that they are interacting with the real Page, and not an account that might be fake or not representing the actual business. If the Page has been awarded this, they will have a small badge appearing next to the business name. Some brands and organisations will show a 'blue badge' - for the sam reasons as the local businesses.
To apply for either of the verified badges, fill out the form found here.
Making your first post
Once your page is up and running, you can simply post as your page by first going to your page, and then posting a message as you would normally on your profile. You will be able to see whether you as posting as the page, or you personally, because in the bottom right you will see the profile picture of the user who will post the message. Clicking the arrow allows you to flip between posting as the page, and posting as you personally. This is one reason why I use a completely separate image on all my pages compared with my personal profile, so it's clear which I am posting from!
I hope this has been useful, please post any questions below!